How does the Affect Your Mood In Stock Market? When we talk about the stock market and our moods, they are interconnected in a very interesting way.
The stock market will affect how investors feel, and in turn, their feelings will also affect the market.
It is a fact that money and subsequent human behavior are so intrinsically linked that an entire field of study called "behavioral finance" was developed to learn more about the interaction between money, mood, and human behavior.
How are our actions determined in the stock market?
Our actions are totally determined by the way we feel, and our emotions also play a central role in our decision-making process.
Conversely, our feelings are also determined by external factors such as the economy.
Money is often considered to be a mood changer.
The confidence that money gives you is one of the forms of measurement in everyone's life.
Also Like: How to Learn Intraday Trading?
Emotional theory in the stock market:
Human Emotion Theory (HUEMO) in the stock market is the analysis of the psychological factors that will affect the stock prices and will also cause a shift in the entire stock market.
The main crux of HUEMO theory is the sheer realization that this assumption is unreliable in the real world.
Stock traders will make decisions that are based on psychological factors and include emotions, which may also place undue weight on specific information at the expense of other relevant data.
Our life and the stock market:
The major lives of the traders are now satisfied because of the stock market prices as well as the record economic indicators.
Some may argue that in recent years we have witnessed a high number of alcohol and drug addictions; depression; suicide; as well as other mental health issues.
It is a mere coincidence that a sustained and severe economic downturn in an economy is coined with the term depression.
There are basically two types of depression in the world, such as:
Also Read: How does the Share Price Works?
Economic depression has its own set of symptoms and they are very much different from the mental health depression.
The main symptoms of the economic depression are as follows:

Mental health depression has got the following features:
Must Know: How Can I Learn Share Market?
Impact of trading in the stock market emotionally:
When you are trading in the stock market, there are, in general, several emotions attached, like fear, happiness, and anger.
Fear will come when you are ready to take the trade, because you will never know what this trade will fetch you.
Even after doing all sorts of technical analysis, you will still have a tiny hint of fear in your mind.
Happiness is because when you take a trade and the same shows you profit, as you have already thought of.
Anger because the trade may not go as planned.
The following is the emotional impact of trading in the stock market:
Exposes you to unnecessary risk:
Stock market trading is a very risky affair in itself.
Irrespective of the stock that you wish to trade in, you should also understand the fundamentals as well as the corporate governance model of the company.
It is very prudent to trade your securities with the best fundamentals so as to enhance your profits.
However, when you trade emotionally, you tend to lose these essential aspects.
With the current bull run in the market, many traders feel that they might miss out on having the best stocks.
Many traders also feel that there will be nothing left for them if they don't invest now.
Due to this, they might overlook the vital aspects and end up with stocks with weak fundamentals.
This will eventually increase the quantum risk, and also there are very high chances of capital loss.
Makes you indulge in revenge trading:
When you might lose capital because of your emotional trading, you might force yourself into revenge trading.
"This trading" refers to the practise of going ahead with a trade to overcome a previous loss.
You have a strong desire to recover from the loss as soon as possible, and in order to do so, you end up making trades that will harm you.
Revenge trading also ends up with overtrading, which will also increase your costs.
Your stress level will also increase as a result of this.
However, to abort the same, you can stop the trade if things are not as per your plan.
Results in trading not aligned with your goals:
Whether you are trading or investing, they should be essentially aligned with your goals.
Goal-based investments will ensure that the money is available when you need it.
However, when you trade with your emotions on the desk, you will become completely aloof from your principle.
On the other hand, when you are trading unemotionally, your judgments will be based on logic, facts, and figures.
You will trade according to your goal and then get your calls right.
This will not only enhance your wealth but also give you a pleasing experience.
Makes your trading experience pleasant:
There is no room for emotions in trading.
The stock market is a place that will create a good opportunity for traders to create wealth.
The only condition attached is that you will have to be ready to stay committed and not take any shortcuts to success.
Whether you are trading with fear or greed, there are high chances that you will experience something really sour.
A bad experience might often lead you to have zero trades during the golden days of trading, which will also turn you off the markets once and forever.
Many traders have turned their back on the markets after having a not-so-good experience.
Ways to control your emotions:
There are the following ways through which you can control your emotions:
Different emotions that you feel while you are trading:
Must Read: Stock Market Tips for Your Success by Trading Fuel
You might end up having the following emotions while you are trading: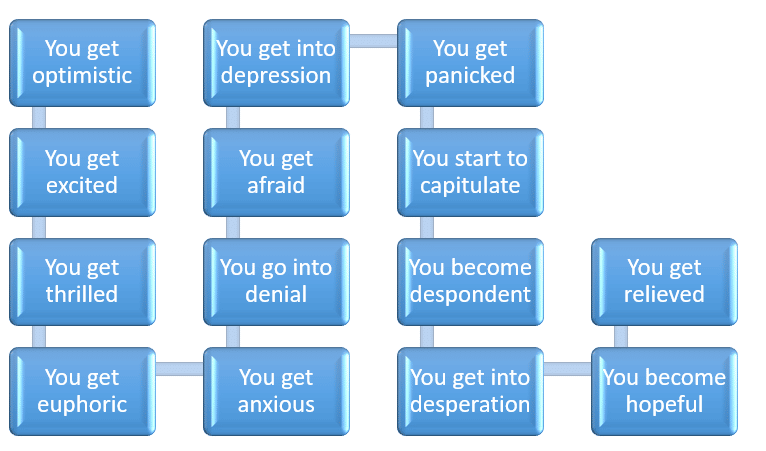 Also Read: How does the Share Price Works?
Conclusion:
We hope that the above blog gives you clarity about how the stock market will affect your moods and emotions.
Frequently Asked Questions (FAQs)
About Us:
Trading Fuel is our blog website where we provide you with knowledge about finance, economics, the stock market, and intraday trading. We that you like our blog How does the Affect Your Mood In Stock Market?"
~Stay tuned with us for more such blogs~