Stockbroking services are an integral part of the stock market. In fact, with increasing interest from the investors, more and more people are opening a demat account. The ability of the stock market to generate good returns is the reason why many people invest in the market. Therefore, among the many financial stockbroking firms, ICICI Direct is the leader in giving stockbroking services to traders and investors across India. In this article, we shall learn about I-Direct in detail and understand how it functions.
About ICICI Direct
ICICI Direct is an award-winning online portal that provides a platform for retail trading and investment in the stock market. In fact, it is a part of ICICI Securities. It was found in the year 2000 and now has an astonishing client base of 3 million. In addition, it provides a wide range of financial services to the client. Their services of ICICI demat account include advisory services, customer service, trading and much more. Furthermore, with I-Direct the customers can trade not only in equity but also invest or trade in derivatives, futures, currency, mutual funds, etc. they also provide the facility of fixed deposits, Tax Services, Loans, New Pension Scheme and Insurance.
Let us now have a look at the features of ICICI Direct.
Features of I-Direct:
ICICI Direct demat account login provides the unique feature of 3 in 1 account. It integrates customer's saving, trading and demat account.
It assists the beginners with research reports, stock tips and mutual fund recommendations.
With I-Direct login the customers are eligible for digitally signed contract notes. In fact, it is the first brokerage firm to bring such a concept.
ICICI Direct customer care services are one of the finest. It has 250 offices across 66 cities of the country to assist the customers.
Let us now learn about the ICICI Direct demat login
I-Direct Demat Login
The ICICI Direct customer login process is simple. The user just needs to enter the user or the login ID along with the password. For further security, the I-Direct website asks the customer to enter the date of birth or PAN.
If the customer forgets the ICICI Direct login id, the user can know the id again within 30 seconds by clicking on the forget login id.
It might happen that password for I-Direct customer login may be forgotten by the user. In such a scenario, to assist the user, the website provides a 30 seconds new password generation mechanism.
ICICI Demat brokerage account ensures that the password is protected during the login. The two-level security ensures that customers get a high-level security standard.
If a new user wants to log in the ICICI Demat account then he needs to fill the basic form including his details on the website. Else he can visit any branch of ICICI Bank for opening an ICICI Direct account.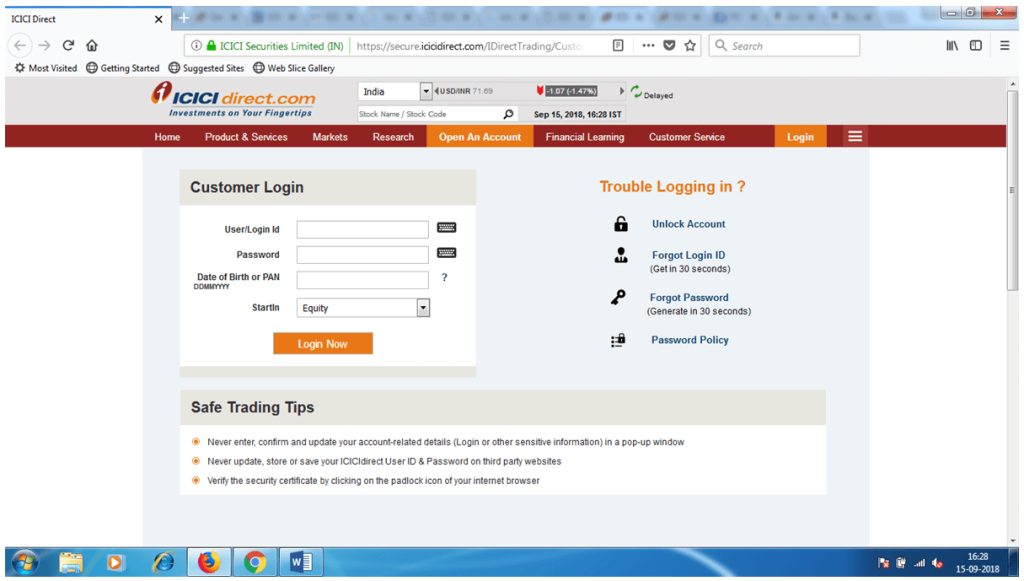 The stockbroking firms charge brokerage from the customers for their services. Let us now know about the ICICI Direct brokerage charges
I-Direct Brokerage Charges
The ICICI brokerage is based on two-tier commission structure.
Flat rate percentage
Variable percentage on the basis of volume
Let us have a look at different brokerage charges by I-Direct;
The flat rate delivery charge on equity is .55%. The intraday flat rate charges are at .275%. However, the range of brokerage charges is from .375% for less than 10 lakhs to .125% for above Rs. 5 crores. The bifurcation of the charges can be seen below;
1. Equity Delivery (on basis of volume)
Less than Rs. 10 lakhs – 0.75%
Between Rs. 10 lakhs to 25 lakhs – 0.70%
Between Rs. 25 lakhs to 50 lakhs – 0.55%
Between Rs. 50 lakhs to 1 crore – 0.45%
Between Rs. 1 crore to 2 crores – 0.35%
Between Rs. 1 crore to 5 crores – 0.30%
Above Rs. 5 crores – .125%
2. Equity Intraday (on basis of turnover on trading per calendar quarter)
Less than Rs. 10 lakhs – 0.375%
Between Rs. 10 lakhs to 25 lakhs – 0.350%
Between Rs. 25 lakhs to 50 lakhs – 0.275%
Between Rs. 50 lakhs to 1 crore – 0.225%
Between Rs. 1 crore to 2 crores – 0.175%
Between Rs. 1 crore to 5 crores – 0.150%
Above Rs. 5 crores – .125%
The ICICI Direct brokerage charges for equity futures is .05% to .03%. The brokerage charges for equity options is Rs.35 to Rs.95. Furthermore, the currency future charges are Rs. 25 per contract. The currency options charge is .05% to .03%. Let us now see the brokerage charges of the above segments in the detail.
1. Equity Future and Currency Future (on the basis of turnover per month)
Less than Rs. 5 crore – 0.05%
Between 5 crores to 10 lakhs – 0.040%
Between 10 crores to 20 lakhs – 0.035%
Above Rs. 20 crores – 0.03%
2. Equity future intraday square off Rs. 15 and Currency future intraday square off Rs. 10.
3. Equity Options:
Rs. 95 to 35 per contract lot.
Intraday square off Rs. 15.
4. Currency Options
Rs. 25 to 10 per contract lot
Intraday square off Rs. 10.
Customer care plays an integral part in the success of any business. ICICIDirect has its presence across whole India and customer care services are really good. Let us learn more about ICICI Customer Care.
I-Direct Customer Care Service
ICICI Direct has a well-spread network across the geographical area of India. It has branches and franchises in almost all major cities and towns. In fact, this gives it a big edge over other stockbroking firms. However, with coverage of such a large geographical area, it is important that customers get a good customer service. Let us see some of the prominent points about ICICI Direct Customer Care services.
ICICI Direct offers customer care services to its clients. The customer can call any number of times for assistance during the working hours. ICICI Direct customer care phone number are different for every location or areas.
ICICI Direct customer care email id is headservicequality@icicidirect.com. Customers having any query can mail for immediate resolution.
The I-Direct customers can directly reach the offices by walking in there and resolving their queries or opening an account.
Conclusion:
I-Direct is one of the reputed stock broking firms in India. They are in the banking sector, life insurance, capital market and general insurance which makes it a reliable brand. With time the internet coverage, usage of computers and interest of customers in the stock market has grown substantially. Therefore, to serve the needs of the customers, ICICI Direct has shown a tremendous response by keeping itself updated with the latest technology and innovation. To conclude, it would not be wrong to say that ICICI Direct provides one of the best demat account services in India.
About Us:
Trading Fuel is one of the popular stock market training centers. In fact, we are well known for imparting education among the beginners. Our in-house professionals and experts help the beginners in learning the technical charts of the stock. Furthermore, with the help of our training, the beginners can become successful intraday traders. In fact, with an understanding of technical charts of stock, they can become successful investors as well. To know more about us you can reach us via call or email. We will be glad to serve you.
Blog Image Credit: ICICI Direct Website